What is the best option to varnish your guitar?
One of the topics that generates more discussion in the guitar world is about the different types of finishings, its main advantages and disadvantages, as well as the importance it has on the sound of the guitar.
Well, today we are going to address all these issues in detail and we are going to give our most sincere opinion.
Polyester and polyurethane finishes:

These "poly" finishes encompass both polyurethanes and polyesters. Both share similarities and differences between them, although their similarities differentiate them from nitrocellulose
They are products that are mixed with a hardener , and dry and obtain their final hardness through a chemical reaction; nitro finishes are single component and dry by evaporation.
Unlike Nitro finishes that need many coats to cover the pore of the wood and leave a smooth surface, this type of finishes due to its composition, are able to do it with fewer coats.
This is one of its main advantages as it allows industrial manufacturers to varnish a large number of guitars in a short time, and therefore the varnishing process does not generate a bottleneck in the manufacture.
In order to get a good finish, and being factories that use a large amount of product, it is ideal that each of them to go through a period of product testing and even consider modifying the composition of that particular polyurethane or polyester. This way you will be getting the best possible result.
Therefore, if you buy your guitar from a manufacturer that is not a luthier who makes few units per year, the most normal thing is that they come varnished in polyurethane or polyester.
These finishes, in addition to their speed of application, stand out for their rigidity once applied and resistance to chemical agents.
Here polyester stands out above polyurethane, the latter being softer and thinner.
With everything explained above, it is easy to explain now why with this type of polyurethane finish, it is more difficult to scratch the guitar, but it will also be more difficult to repair if the guitar is damaged, since the thick and rigid layer does not help.
In addition, if the finish is too thick, which usually happens with polyester mainly, the guitar can lose its wooden feel and look more plasticky.

ADVANTAGES:
Speed of application.
Less quantity required and lower cost
More difficult to scratch
DISADVANTAGES:
Difficult to repair if wood is damaged
"Plastic effect" if the finish is coarse
Lower vibration capacity of wood (worse sound)
Nitro finish: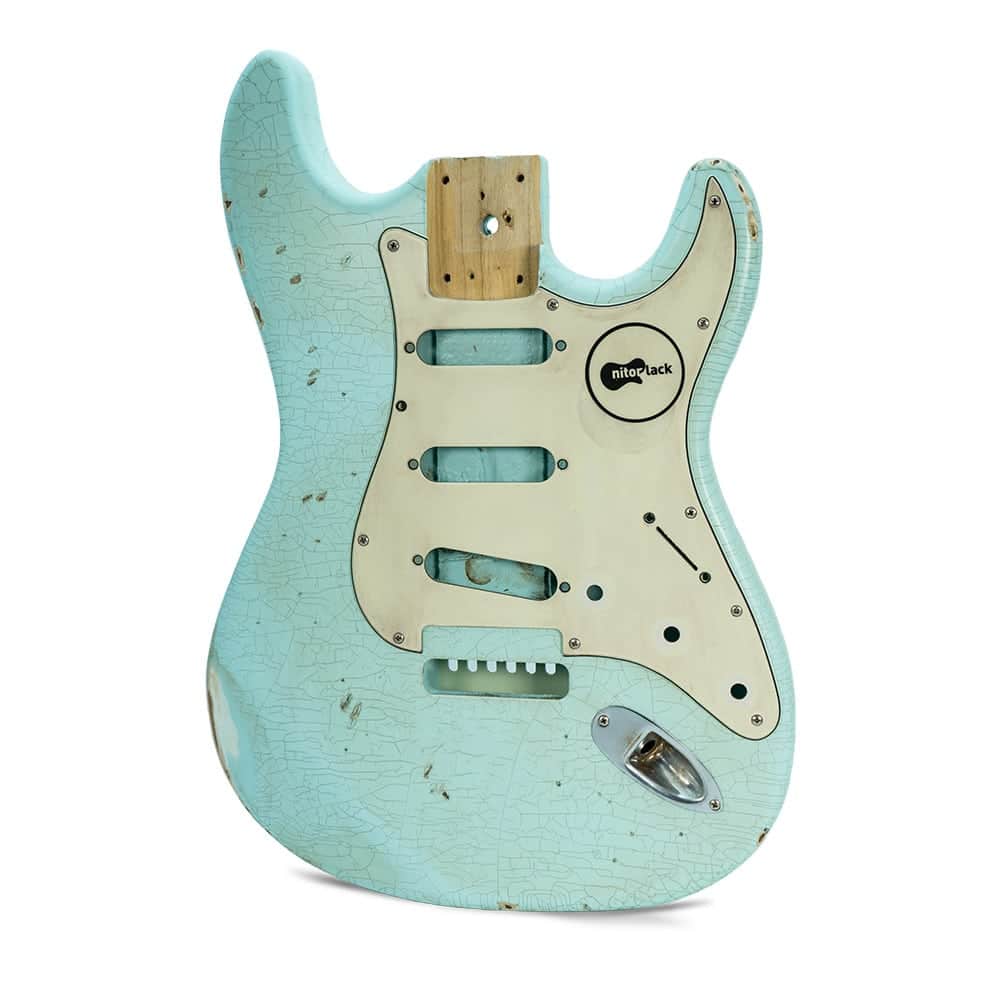 This type of finish has been used on all types of instruments since the 1950s by both Fender and Gibson.
It was also used to paint furniture and automobiles, but nowadays its use has diminished in such industrial processes.
Today this varnish is used on high-end guitars, made by luthiers who make few guitars, and also by guitarists who paint their own guitars.
The application process of this product is well documented in our blog processes and tutorials, and therefore I will not dwell on it.
What is clear is that it requires more time and dedication, but it is not difficult to achieve a good result and the feel of the guitar will be better.
As a remarkable difference with the polyurethane and polyester finishes, it is very easy to scratch when hit, and the speed with which the nitro ages getting a vintage finish in a few years.
So, if you want a Fender guitar that looks vintage, this is the finish to use.
Here is the link to the most commonly used product to finish your guitar in nitro, you can choose between gloss or matte finish.
If you want to speed up this process, we recommend you try Relic Nitrocellulose.
This nitrocellulose has a different composition and as it has hardly any plasticisers and resins, it cracks more easily.
This crazing results in cracks, which, together with a few blows to the body, give the guitar a vintage 60's look.
In a matter of a couple of months and following the steps recommended by Nitorlack, you will be able to turn your guitar into a vintage Fender, like the one in the photo we took ourselves in a month.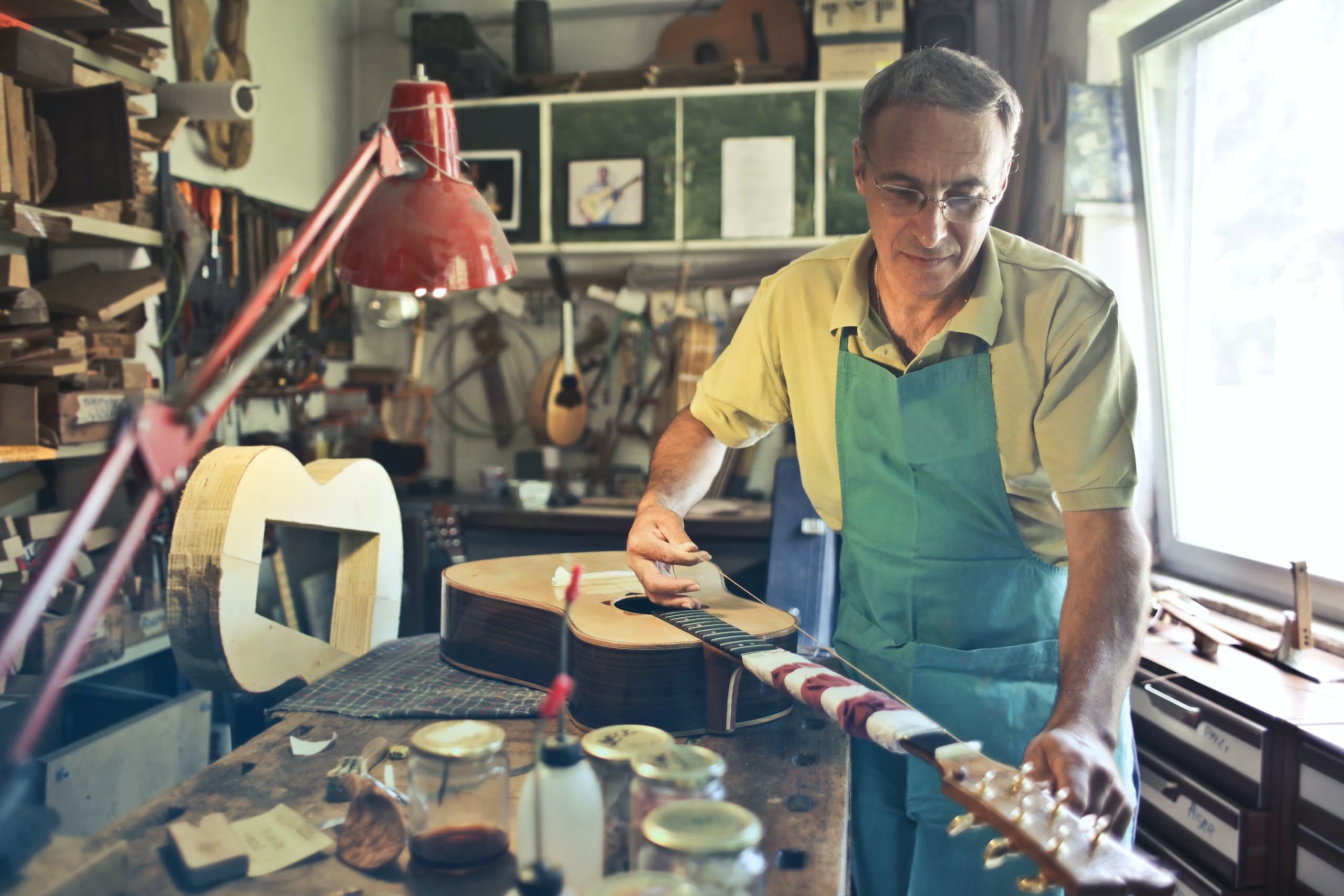 ADVANTAGES:
Easier to repair if damaged
Easier to artificially age
More premium appearance
Better body vibration and therefore improved sound.
DISADVANTAGES:
Scratches more easily on impact
Longer application process
More coats are needed and therefore the cost is higher.
With which varnish does the guitar sound best?
During the years that the Nitorlack project has been running, we have been able to deal with thousands of customers, from different countries and with different degrees of knowledge. Many of them have given us their opinion, and we have even relied on certain customers to create or modify certain products. This is what helps us to give an opinion on a subject that is so complex and generates so much debate in the guitar world.
Testimonials from many of our customers on the subject support our opinion that a nitrocellulose-finished guitar sounds better.
This "better sound" is achieved because with nitrocellulose you get a very thin and at the same time very stiff surface, which does not dampen the sound of the guitar.
Thick or very flexible varnishes cause the sound of the guitar to be muffled and lose resonance.
This is the main reason why our customers decide to repaint their guitar in a new colour and then try to finish it with one of our nitro finishes.
The process of evaporation of the solvent between coats means that what remains between each coat is a much thinner layer, which makes the wood breathe better, vibrate more and consequently sound better, and all this without losing the gloss effect.
It is also important to emphasize that the type of varnish used to finish the guitar is another factor but not the only determining factor in making a guitar sound good, the wood used will also have a direct influence on the sound.