WOOD GRAIN FILLER guitar paint and all you need to learn how to paint a guitar
#mynitorlack
---
Grain Filler for Guitar – The first step to a flawless finish.
Nitorlack's grain filler is a product designed to fill the pore of wood and prepare the surface for subsequent finishing applications, both polyurethane, nitro, water and shellac. The product is compatible with our water-based dyes to give it the tone you want. You can adjust the density with water, it is easy to apply, quick-drying, does not crack and has good sanding. Indicated above all in large open pore woods, such as Mahogany, Ash or Rosewood. Nitorlack's Grain Filler for guitar is the best option for filling and leveling pores in woods before varnishing. Everything you need for a professional finish. Fill wood pores without sagging, shrinking or cracking Compatible with all finishes Compatible with all stains, backgrounds and topcoats. Colors specially developed for instruments. Neutral is perfect for custom tints with ColorTone dyes and pigments Easy to apply, dries fast and sands easily Non-toxic, solvent-free and non-flammable. ColorTone Powder Grain Filler is supplied as a fine powder, ready to mix with water (a 1: 2 ratio of water to filler works for us). Apply to wood, scrape or Tear off excess, allow to dry, sand the surface level and wipe with a damp cloth. It is easy! Now you're ready to spray a smooth, blemish-free professional finish. No need to worry about shelf life – when stored dry, the filler will last indefinitely. 250 ml bottle
PREPARACIÓN
En un baso poner el grain filler con un 10% aproximadamente de agua templada.Mezclarlo hasta que no tenga grumos y con una consistencia adecuada para aplicar.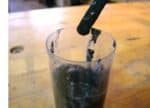 APLICACIÓN 1. Preparar la superficie lijando con lija de 400 y quitar cualquier resto de disolventes o aceites.
      2. Aplicar el grain filler en direccion a la veta y luego al contrario de la misma. Dejar secar 10 minutos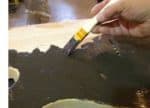 3. Con una espátula con un ángulo de 45 grados retirar el exceso de grain filler.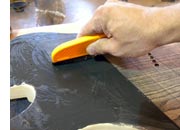 4. Una vez seco, limpiar el residuo restante con un paño limpio y seco.
        5. Lijar la superficie con lija de 400.
        NOTAS
Si es necesario una siguiente aplicación de grain filler dejar secar 30 minutos
Se puede entonar el color del grain filler con nuestros tintes al agua.
Esperar 24 horas para aplicar cualquier acabado posterior al grain filler.
No es toxico.
Con la garantía de Valresa Coatings S.A
| | |
| --- | --- |
| GRAIN FILLERS | BLACK, MAHOGANY, NATURAL, ROSEWOOD |
Only logged in customers who have purchased this product may leave a review.