In the history of relic guitars there are 2 main protagonists Jay W Black and Vince Cunneto
Jay W Black was at that time the Master Builder and head of the Fender Custom Shop, Black worked at a local music store in Bethlehen, where he learned the trade of luthier. In the late 1980s Jay moved to NY to work in R. Sadosky's studio and later on Rudy's Music with John Shur himself.
In 1983 Jay did his first Relic work on a 1950s Gibson Les Paul Junior which he converted to a 1959 Les Paul by adding binding, maple top, inlays and finally painted and aged it to look like a 1950s Les Paul.
He continued to age for Sadowsky and increasingly learn to age guitars.
Vince Cunneto in 85 was buying and selling vintage guitars and became a good friend of Jim Colclasure because he distributed old guitars, as well as being a partner with Jay W Black.
Vince was dedicated to deeply investigate the construction and wear of the guitars that passed through his hands and there came a time when he decided to make telecaster himself with templates he had made. Cunetto knew how to paint because he had worked in a paint shop. Once his first telecaster was built in a friend's workshop, he decided to relic and age it.
The birth of the Relics in Fender and how the history of relic guitars began.
One day of that time Jay saw the musician Don Was in his studio, where they recorded the Rolling Stones at that time. Don had to go to the Grammys and he had a new bass that he asked the Fender Custom Shop to age for a vintage bass look. Starting with that bass, Fender gave its artists the option of giving an aging treatment to their instruments but did not treat it as a standard finish for their guitars.
Jay W. Black met Vince Cunetto, they met through a third party who knew the work of the two and they presented themselves to share experiences, and from that moment they were in contact and began to collaborate.
When Jay W Black started working for Fender he needed some decal for the historically correct guitars and he thought of Cunetto, who was delighted to start collaborating with Fender on the decals. Thereafter, he supplied pickguards and worn parts to the Custom Shop. In this way Jay and Cunetto realized the demand for this type of product and saw that it could be very successful.
The first relic guitar prototypes to come out of the Fender Custom Shop were a 50s Nocaster and a 50s Stratocaster Mary Kaye. The two guitars were first exhibited at the 1995 Namm Show in two glass cabinets. It was a tremendous success and created great anticipation.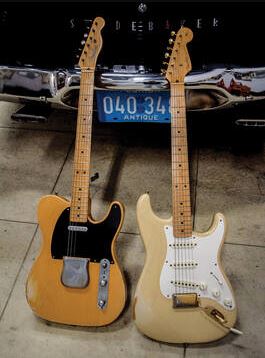 From that moment on, all departments at Fender were put into operation to produce Relic guitars. But Fender had a problem, the Environmental Protection Agency did not authorize nitrocellulose varnishing (necessary for relice finish) because the Fender plant was not qualified to do so. And they already had hundreds of pending orders from the Namm Show !!!!!
The solution was for Cunetto to set up a 600-meter production plant in Springsfield where he could indeed varnish with nitrocellulose, with paint booths, workstations and everything else necessary. Fender shipped the bodies and masts to Cunetto and Cunetto returned them varnished and aged.
Little by little, more models were incorporated into this Relic finish, including the JazzBass, Precision, Strat 69 and Telecaster series. Everyone wanted a new Fender with the feel of a '50s guitar!
Artists around the world wanted the Relic guitars made by the Fender Custom Shop and sales growth was outsized, Cunetto expanded the production floor and established itself as a Fender product line.
In 1998 Fender adapted its plant to environmental regulations and ended the Cunetto era.
The Relic product line was evolving and different levels of relic were incorporated into the catalog, which continue today.
N.O.S (New Old Stock) They are exact replicas of the first fenders (measurements, electronics, components, woods, finishes …) but not brand new. As if they had been stored in a closet for 40 years.
Closset Classic. They imitate guitars that were used for a short time at first and were later kept for years. They have light touches and signs of wear
Relic and Heavy Relic. They are guitars with obvious signs of wear on the nitrocellulose paint, components, dirt, etc.
Today both Jay W Black and Cunetto came out of Fender and have their own workshops and build guitars under his name, but they will always remain the protagonists in the history of relic guitars.
Since then many brands have been incorporating aged looking guitars into their catalogs, such as ESP, Gibson, etc. Even luthiers and small manufacturers dedicated exclusively to making Relic finishes.
These finishes have generated many conflicting opinions, there are true lovers of relic and others who would never play an artificially aged guitar, whether you are from one side or the other, in Nitorlack you have all the necessary products to finish your guitar.